It's the leading cause of death and injury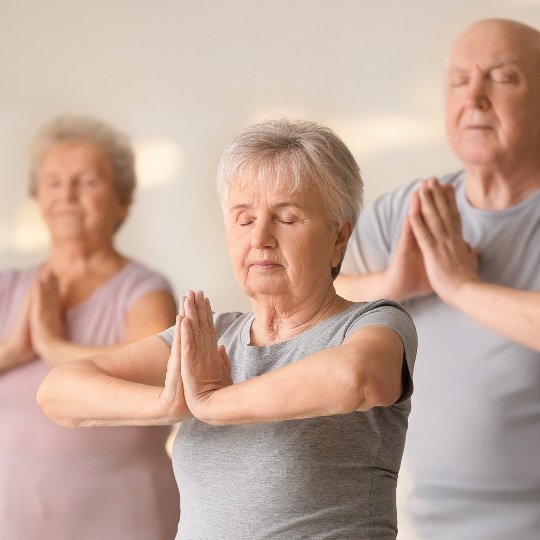 According to the CDC, every second of every day, an older adult (age 65+) suffers a fall in the U.S.—making falls the leading cause of injury and injury death in this age group. 
The older adults in your life might be healthy and fit. But as I learned first hand, a fall can result in injuries that mean the loss of independence for an older adult. 
Keeping an older adult safe and reducing their risk of a fall can be relationally complex. My personal experience with my very intelligent (and stubborn) father included times where he left his walker behind in order to "practice walking" without it. Then there were the (many) times when he'd hide the motion alarm in a drawer at the adult family home so he could move around in his room without them being alerted. They really appreciated that particular trick of his!
Avoid that emergency call while you are working with these three strategies.
Conversation strategies

Health-focused steps for fall prevention 

Tools to aid and assist
The National Council on Aging has a comprehensive guide called "Falls Prevention: Conversation Guide for Caregivers". It includes step-by-step information on how to approach the conversation, plus it has a checklist to help evaluate if someone is at risk of falling and would benefit from more preventative measures. 
How to approach an older adult about safety
Be considerate with the language used. For example, it is beneficial and supportive to say things like, "I'm worried about you and want to help."
Be mindful of how you describe the changes you have noticed that pose a risk for falling. Be clear that you want to talk with your loved one about their overall safety. You may suggest accompanying the individual to a wellness checkup that includes a falls prevention assessment, which is a simple, routine test, like a blood pressure or diabetes screening.
Be mindful of your tone and body language, and be positive. Know the individual's preferences and communication style. 
Recognize that this conversation may need to happen more than once. 
The National Council on Aging outlines 6 practical health related steps to prevent a fall:
Find a good balance and exercise program

Talk to your healthcare provider about a fall risk assessment

Regularly review medications, making sure side effects aren't increasing the risk of falling

Get your vision and hearing check annually

Keep your home safe by removing hazards

Talk to your family to enlist their support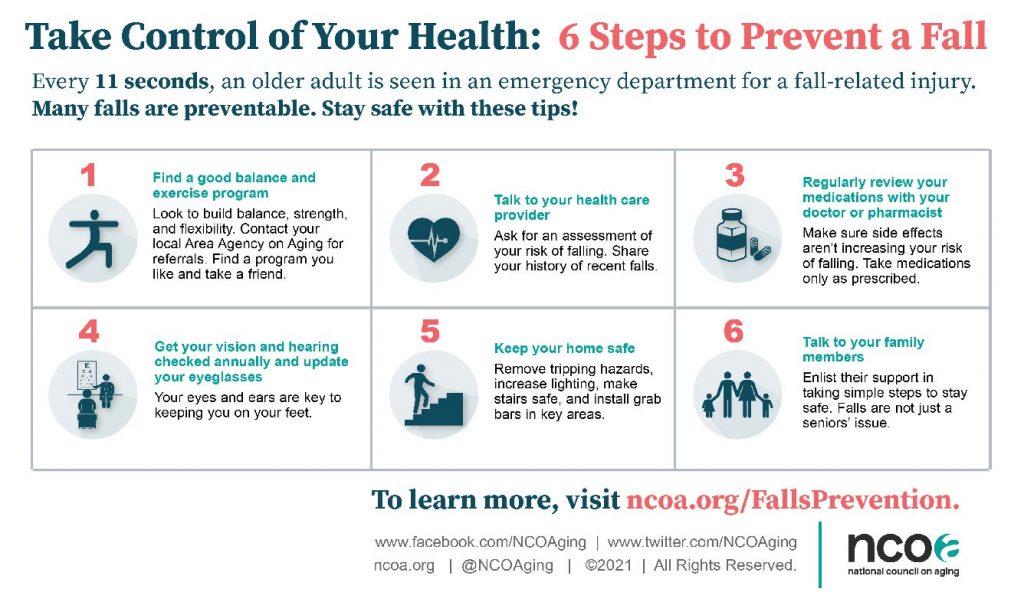 There are multiple products on the market that can help caregivers keep an older adult from falling. Sometimes it's as simple as being notified in order to help an older adult move about. 
Three helpful products that reduce the risk of falls
This product from Smart Caregiver

has a wireless alarm that can be placed in a convenient location (up to 100 feet away) from the cordless sensor pads. This set has both a cordless bed sensor pad and a cordless chair sensor pad. The alarm sounds when weight is removed from the device or it's turned off.

This

grabber tool

is an inexpensive way to allow someone to get something they may otherwise reach too far to get or stand on a step stool to reach. This grabber is foldable, extends to 32 inches and has a magnet at the tip. 

Transfering to and from the bed or the toilet is a common time for a fall. We used transfer poles like

these

for my dad in both the bathroom and at his bedside. It worked well and was tension mounted so there wasn't damage to the ceiling or floor. There are also products like this

Step2Bed

which provides a step, handrail and LED light to assist with getting in and out of bed.
May the falls around you only happen on Monday night football!
Elizabeth Dameron-Drew is the Co-founder and President of Ways & Wane. She walked closely with her own father through his years of waning. She lives near Seattle with her two teenage sons, husband and two rescue dogs.