Recipe for Gatherings with Older Adults
Take 12 pounds of holidays, toss in 6 tablespoons of dementia, a couple of hard-of-hearing ears, 2 creaky knee joints, a side of grumpy teenager and top with a lifetime of family history and you've found yourself with a multigenerational holiday that is sure to be memorable. It's a special time. Not necessarily an easy time, but precious because of those who are present. In the spirit of wishing you the best version of a holiday recipe for success with the older adults in your life, we have ideas for activities, practical suggestions, safety tips and things to avoid.
Ideas for fun activities:
Go on a drive to see the holiday lights. If possible, drive through a neighborhood where the older adult used to live.
Listen to their favorite holiday songs and or watch a classic holiday movie together
Reminiscing about past holidays is a way to help keep older adults connected to their legacy. Talking about traditions and reminding them of your appreciation for what they have done over the years can be a sweet way of honoring them.
Decorate for the holiday together, either at their residence or yours. Unpacking decorations or setting out decorations on a table top can both be done from a seated position. For their room, even just a pre-lit tree or a string of hanukkah lights can make a big difference.
Host a gingerbread house decorating contest and divide your group into teams. Maybe the winners get something funny like these fuzzy flamingo slipper shoes. If a Hanukkah House is more relevant, this one is a fun choice.
Offer to create and help them mail holiday cards to their friends. A card with a photo of them with a silly filter could be fun. Maybe you address the envelopes and the older adult licks and seals them shut. Hopefully they'll receive some in return.
Play a new game as a family. The game, "Do you really know your family?" can be played across many generations and can mix up the conversation. Just be sure to make sure the older adult can clearly hear the questions/answers.
If you are geographically far apart, arrange a video call and decorate together virtually or just have a cup of tea or cocoa.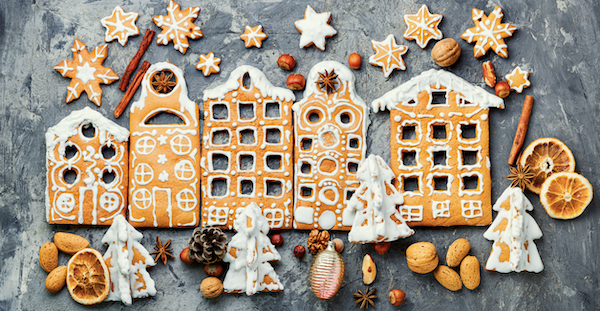 Tips to remember:
If possible, schedule events for the older adult's best time of day
Offer healthy options like pre-cut vegetables and fruits
Generally older adults have trouble staying hydrated. Make sure to have water available to them before, during and after the meal. A straw and stable glass can make things even simpler.
If there are parts of the meal that are hard to cut, pre-cut the older adult's portions beforehand so that it's accessible once it's on their plate.
Set up a quiet area for the older adult to be able to spend time if the excitement of the event becomes too overwhelming
Provide a place to sit that isn't difficult to get out of like a chair with arm supports
Safety tips:
If prescription drugs are usually taken at meals, make sure they day's events don't throw off their medicine schedule.
Arrange in advance who is available to help the older adult use the bathroom (should they need it). If the event is at your home, consider temporarily adding a raised toilet seat or spring mounted support pole to give the older adult independence and keep them safe in the bathroom.
Ensure that there are clear walking paths and remove trip hazards like throw rugs or extension cords.
What to avoid:
Activities that require a lot of fine motor coordination. Between arthritis and diminished eyesight these could just be frustrating for an older adult.
Activities that require standing or walking for extended periods of time.
Low and soft couches or chairs that are hard to get out of
Additional background noise (like music) that can make it difficult to hear and participate in conversations
Too many fatty or salty foods and 'over doing it' can be challenging for an older adult with a pre-existing health condition.
An event that's too long/tiring.
Lastly, remember that children (young or not so young) who are part of holiday events are watching how you love and honor the older adults who are present. Someday they may be loving and honoring you in those same ways. You are showing them how.